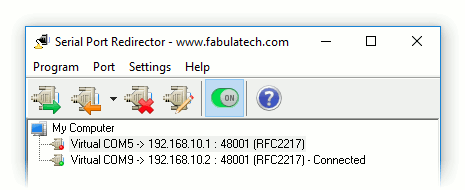 Overview
Serial Port Redirector is software that provides access to remote serial devices via virtual serial ports over network. The program creates virtual COM ports and redirects all data and signals written to the port to the remote host with specified IP-address and TCP-port.
How it works
Serial Port Redirector serves as a client for getting access to remote serial devices. For this purpose the program creates virtual COM ports. When a virtual serial port on the local machine is being created, it is required to specify the IP-address and TCP-port of the remote side you want to establish connection with.
A Serial Device Server commonly serves as a remote side. The Serial Device Server usually has several COM-ports and to every serial port is assigned its individual TCP-port.
As soon as communications software opens local virtual COM-port, the connection with the remote side is established, and the communications application can exchange data with remote serial devices.
Serial Port Redirector uses RFC2217 (Telnet COM Port Control) protocol that allows communications software to interact with serial devices attached to Serial Device Server over network. RFC2217 is a standard client-server protocol that enables you to use any Serial Device Servers.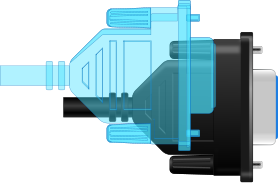 Serial Port Redirector fully emulates physical COM-ports. Virtual COM ports are accepted by communications software on the local computer as hardware ports.
Serial Port Redirector allows you to preconfigure initialization commands and other custom data for COM ports. Predefined custom commands could be required for correct functioning of some serial devices.

SSL Security layer protects your private information and keeps your data highway safe. The information transmission over a data channel protected with SSL protocol will be secure during the process.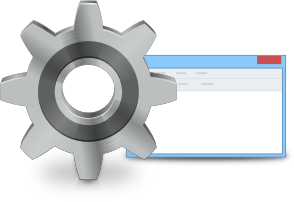 Serial Port Redirector can work as a server of physical and virtual COM ports. Communications software on the local computer can get access to remote virtual and physical COM-ports over network. It means that you can turn a standard computer into a fully featured COM Port Server.
Usage examples
Serial Port Redirector can be used to access remote serial devices connected to serial device servers. Also you can use the program to connect usual serial communications software with TCP/IP software.
OEM License Benefits

Serial Port Redirector is available as OEM. The program can be integrated into your software. Developer API allows configuring and controlling Serial Port Redirector in your software.
Was this page helpful?
Your feedback helps improve this site.