Overview
Sound over RDP is a reliable software solution that enables two-way sound connection between a local and a remote RDP session.

In standard situations, two-way sound stream in a remote desktop session is problematic or even impossible for such applications as Skype, NetMeeting, AIM, ICQ, Dragon Naturally Speaking etc. DirectSound applications do not natively support audio input/output functionality in remote desktop environment, thus there is no possibility to use a microphone in your remote desktop environment.
Sound over RDP allows you to transfer audio stream with low latency and high sampling rate to the remote RDP session, with no cut-offs or choppy sound.
How it works
Sound over RDP is an easy sound virtualization tool that provides two-way audio stream to and from your remote RDP session.
It is comprised of two parts: Workstation and Server. The Workstation part should be installed on the local workstation and the Server part goes to the remote server where you login by using RDP protocol.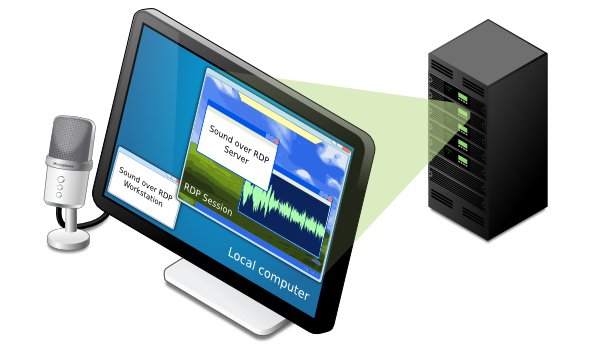 As soon as both parts are installed, no additional configuring is required. Every time you log in to your session you won't have any trouble using microphones, speakers, headsets or other audio equipment. The output audio will be played back from your remote desktop to your local headphones or speakers, and audio applications that need to use sound input in your remote session will function as if the microphone were plugged directly into the remote side.
If there is more than one user logged in to the remote side, you can be sure that each sound device is isolated within its individual session so you don't need to worry that somebody else will hear your incoming or outcoming audio stream. You don't need to scan through the list of input/output devices of other users to find your microphone or headphones. Such isolation allows you to work with your audio stream exclusively.
Real two-way sound over RDP
Sound over RDP provides you with two-way sound stream over RDP. Now you can use microphones, headphones or speakers in your remote desktop session.
With Sound over RDP no such limits are set. Work with any sound and dictation software. Use Skype, NetMeeting, AIM or ICQ without any headache in your remote desktop session hassle-free.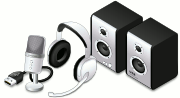 You don't have to buy some special type of sound input/output device or adapt an available one. Any USB-headset or a microphone will do. Just plug it into your computer and work!
Do you still have problems with sound redirection to your remote session and sound quality? Now this problem is solved. Thanks to progressive technology of audio decoding the sound quality is maintained.
Sound over RDP provides you with low-latency audio streams so that you can work in real time. High-quality sound connection with no cut-offs or jerky sound is ensured.
It doesn't matter what kind of virtual machine you choose, VMware, Hyper-V, VirtualBox or any other. Sound over RDP works perfectly with all of them.
OEM License Benefits

Sound over RDP functionality can be easily integrated into your application. So you allow terminal server users to access local headsets and microphones in remote Windows session. Read more…
What about Linux?
If you are looking for the same easy solution for Linux you have already found it. FabulaTech offers you Sound over RDP Linux version. It works perfectly in most distributions of Linux operating system.
Sound over RDP Linux includes a modified and extended version of the standard open-source "rdesktop" application. When you start the program it initiates RDP connection to the remote side. It supports "rdesktop" native command line options and also includes additional options for sound redirection configuration.
If you want to personalize your input sound device you are more than welcome. Change the number of channels, bitrate or sampling rate and work with pleasure.
Sound over RDP works perfectly in most Linux distributions. You don't need to worry about what system is installed on your computer, just enjoy your work with Sound over RDP.
When you start Sound over RDP it initiates RDP connection. It means that you don't have to perform such connection before you start the program. It happens automatically.
Was this page helpful?
Your feedback helps improve this site.