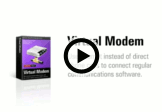 Interested in seeing an overview of Virtual Modem? Click on this demo to learn more about the program features, real usage examples and get a high level view of benefits you can enjoy using virtual modem.

This demo show how to connect two communications applications using virtual modems (they communicate over network) instead of physical modems (they communicate over phone lines).

Sometimes network-based programs cannot work properly because Windows Firewall restricts connections that come from other computers. To resolve this problem you will have to add a new rule to the Windows Firewall exclude list.
By the example of Virtual Serial Port Kit this demo shows how to convert trial to full version using a license key.