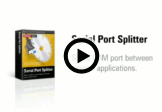 Interested in seeing an overview of Serial Port Splitter? Click on this demo to learn more about program features, real usage examples and get a high level view of benefits you can enjoy using our product.

This demo shows how to read data from one GPS by several programs simultaneously.

Using Network Serial Port Kit it is possible to access remote serial port. But what if you need to access the COM port from several computers at the same time? It's quite possible using Serial Port Splitter in conjunction with Network Serial Port Kit.
By the example of Virtual Serial Port Kit this demo shows how to convert trial to full version using a license key.