Overview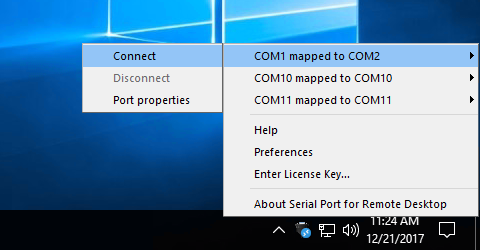 Serial Port for Remote Desktop is a software for redirecting local serial ports to remote desktop session.
So, any serial device being plugged to a hardware COM port on the local PC is accessible in the remote Windows session as if it was plugged directly to the remote desktop side.
---
How it works
The software consists of two parts. The Workstation part is to be installed on the local computer where the serial device is physically plugged to local COM port. The Server part goes to the remote side.
Serial Port for Remote Desktop creates a virtual serial port in your remote desktop session. As result the ports can then be used by third-party applications to communicate with legacy serial devices such as serial printers, scanners, card readers. Any third-party application in the remote desktop session can access virtual COM ports, open them and exchange data just like it does on a physical machine.
---
True emulation of the remote serial port
Virtual COM ports fully emulate behaviour of hardware COM ports, so any serial communications application works with virtual COM port as if it was a hardware COM port.
---
Auto redirection
Serial ports can be configured to be auto-redirected. In such case, every time the user logins to the remote session, these COM ports will connect automatically without requiring manual intervention.
---
Remote desktop protocols in different environments
Serial Port for Remote Desktop supports different remote desktop protocols including Microsoft RDP, Citrix ICA, Amazon NICE DCV, VMware Blast and Teradici PCoIP. It does not matter what environment is used (Remote Desktop Services, Hyper-V, Microsoft Azure, Citrix Virtual Apps and Desktops, VMware Horizon, Amazon Workspaces and others). Any compatible Client software can be used for accessing remote side. And there is no need to change firewall settings.
---
What about Linux?
If you are looking for the same easy solution for Linux you have already found it. FabulaTech offers you Serial Port for Remote Desktop Linux version. It works perfectly in most distributions of Linux operating system.
Linux version of Serial Port for Remote Desktop includes plugins for FreeRDP, Citrix Workspace app, VMware Horizon, HP Anyware PCoIP Client and Amazon WorkSpaces.
---
Azure Virtual Desktop compatible
Serial Port for Remote Desktop, as well as other FabulaTech solutions, is fully compatible with Azure Virtual Desktop and makes it possible to access local serial devices from applications running in Windows Virtual Desktop.
---
Double hop session support
You can connect from your workstation to remote Server 1. And then initiate a connection to another Server 2 session from Server 1. The device will be accessible on Server 2 without any additional configurations.
---
Seamless mode support
Serial Port for Remote Desktop works perfectly in seamless mode. It is easy and convenient feature which allows to connect your local COM port to the remote application running in seamless mode.
---
OEM License Benefits
Serial Port for Remote Desktop functionality can be easily integrated into your application. So you allow terminal server users to access local COM ports in remote Windows session. Read more…
What Customers Say
Serial Port for Remote Desktop allows us to map our COM devices from Linux thin client to remote RDP session.
---
And Even More…
Zero configuration is required.
Works with any virtual machines.
Mixed 32 and 64-bit environment.
---
Additional Information
Serial Port for Remote Desktop
.
Redirection software allowing to use serial devices in remote desktop session.
OS:
Windows, Linux
, Version:
3.3.0.15
Price: $
---
Try Something Bigger
We're reinventing our device redirection software to offer you even more rich user experience while working in remote desktop environment.
Device Redirector is a combined solution allowing you to redirect almost every device to remote desktop session. Learn more about it's benefits and new features.