Device Policies
It's possible to pre-configure access rights for specified USB devices for specified user accounts or user groups.
For example, you can deny access to mass storage devices for all users, except administrators. Another example is allowing access to a specified model of a signature pad for a specified user and auto-connect that signature pad upon user logon.
In other words, Device Policy specifies the action for a USB device (or groups of USB devices) on user logon.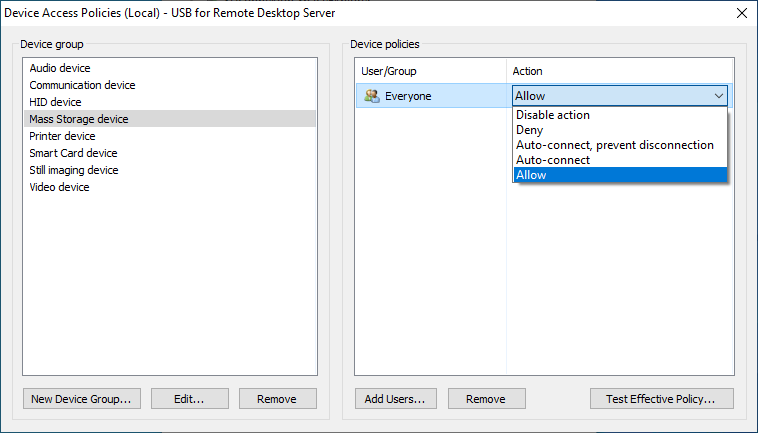 On the screenshot above, there are several configured device groups (Audio device, Communications device, HID device, etc). There is a policy action configured for the Mass Storage device group. The policy denies using Mass storage devices for Everyone.
So, in this case, each time user tries to connect a mass storage USB device, the program blocks that attempt and denies connection of the USB device.
Device Group is a set of properties that identifies certain USB devices. It can also identify a single USB device. The following parameters are used: VID, PID, Serial number, Class, Subclass, Protocol.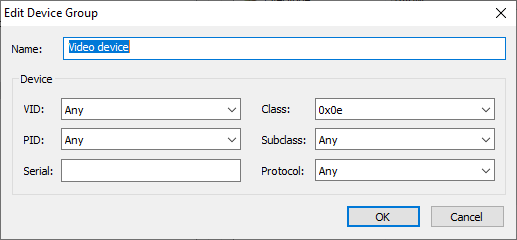 In order to identify a group of USB devices it is possible to specify only several properties.
If several groups match for a USB device, the group with the highest priority is used. Device group has the highest priority if all properties are specified. Each property has its own priority weight:
| Property | Priority |
| --- | --- |
| VID | 00100000 (32) |
| PID | 00010000 (16) |
| Serial | 00001000 (8) |
| Class | 00000100 (4) |
| Subclass | 00000010 (2) |
| Protocol | 00000001 (1) |