Quick Start
Biometrics for Remote Desktop does not require any configuration. Being installed on local and remote computers it allows using local biometric scanners (like fingerprint readers) in remote desktop session.
Biometrics for Remote Desktop Workstation must be installed on the local PC, Biometrics for Remote Desktop Server must be installed on remote side.
Note: device driver must be instaled on the local PC. Refer to the driver installation guide provided by biometric device vendor.
When all components installed, all biometric scanners plugged in the local PC will be redirected to the remote desktop session automatically. Redirected devices are listed in the Biometrics for Remote Desktop tray menu.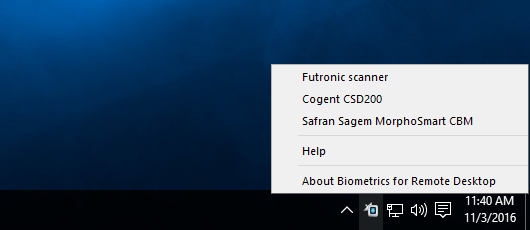 It's very easy to check that all works fine. Just launch any software that requires biometric scanner in remote desktop session and it will operate as if the device is connected directly to the Terminal Server.